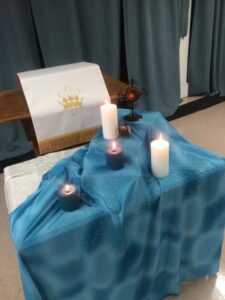 COVID 19 UPDATE: We are back in church! Join us for Worship on Sunday's at 10:00 am. We continue to follow CDC and State guidelines, masks are optional, not mandatory. For those at home, we continue to have our online bulletin available as well as online worship on Facebook Live!
East Parish UMC gathers for worship at 10:00 a.m. Sunday mornings.
You can expect to feel welcome, to hear the Word of God, and to know God's presence in our beautiful historic sanctuary. We sing contemporary and traditional hymns, pray, learn, and laugh together. We are low on formality and high on community. Salisbury is a beach community, with many vacationing visitors. You will find people dressed in their Sunday best and others in casual clothing. Wear what you feel comfortable in. After worship, everyone is invited downstairs to our fabulous East Parish Coffee Hou/Lunch. All are welcome to join us.
Communion
Communion is typically celebrated the first Sunday of the month. In the United Methodist Church, we celebrate an open communion table, meaning all are invited to receive communion. Gluten-free bread is also made available.
Children
God put the wiggle in children, so don't feel you have to suppress it in God's house. All are welcome! A church full of wiggling children is a church full of life. We both treasure and encourage their presence in worship. We provide worship bags with a variety of quiet activities to keep our youngest worshippers engaged during worship.
Accessibility
Our building is equipped with an elevator for access to all who wish to worship. There are accessible restrooms on the same floor as the sanctuary. Please contact the church office with any questions.